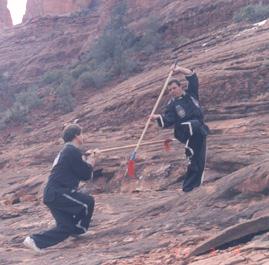 Through training with weapons, mental and physical discipline is increased far beyond what one can achieve by empty hand training alone.

Mentally you can develop an increased ability to concentrate, reflex is quicker, and movements are more smooth. Balance and timing are improved, and the mind is sharper, clearer, and more intense.

Many of the weapon forms and movements will give you greater internal and external developments and benefits than the weaponless forms.

Practicing with a weapon you learn to extend your concentration to the weapon itself, until your mind, body and weapon become one.